Embroidery, with its highly versatile application on a wide range of materials, is the main processing service offered by ABC Ricami, representing the company's core business.
The company's creations span an endless variety of styles and are constantly evolving. Satin stitching, cutwork embroidery, cross stitch and appliquéd embroidery are just some of the distinctive techniques that ABC Ricami can perform on any type of leather or fabric.
MATELASSÉ, QUILTING AND 3D EMBOSSING
ABC Ricami produces quilting of exceptionally high quality for the clothing, leather goods, footwear and furnishing sectors.
Quilting can be achieved on any type of fabric: synthetic, natural, technical, printed and stretch fabrics, as well as different types of leather, including suede and nappa. The company can also create 3D embossed embroidery on leather and fabrics using 3D machinery that highlights details in high definition, giving creations a unique three-dimensional effect.
Sequins, spangles and bright colors are essential elements in a designer's armory. Sequins add a touch of brilliance to garments and accessories, and ABC Ricami can satisfy the fashion industry's every requirement with the application of sequins and cup sequins, or cuvettes, available in a vast range of shapes, colors, materials and sizes (from 2mm to 18mm, including the twin device for double brilliance).
Coiling and cordonnets are yarns and ribbons used to create a relief effect wrapped around topstitching or chainstitching, providing rigidity and structure. This processing technique is widely used in the fashion industry, often going hand-in-hand with embroidery and sequins on leather as well as fabrics.
EMBROIDERED LABELS AND PATCHES
Embroidered labels and patches are appearing again on the catwalk, adding personality to even the simplest of garments. Catering to designer trends, ABC Ricami creates all types of embroidered patches, which can be customized with images, logos or lettering, with no limits in terms of quantities and sizes.
The company can produce Velcro-fastening patches as well as heat transfer patches, which are applied directly onto the garment or fabric using heat. 
LASER ENGRAVING AND CUTTING
From precision-cutting of appliqués to the engraving of leather and fabric for footwear, haute couture, furnishings, and small and large leather goods, laser cutting complements embroidery perfectly. This combination can be used to create innovative, avant-garde products.
Laser-cutting processes offer benefits in terms of precision, detail and flexibility, making them ideal for made-to-measure creations of outstanding quality. The ability to combine laser cutting and embroidery opens up new creative possibilities for unique results in the textile industry.
This technique can be used to combine different types of materials through precision sewing, using a range of different stitches such as blanket stitch, cross stitch, straight stitch and various styles of top-stitching to create special effects in line with clients' requests.
Patchwork is widely used to create bags, footwear, clothing, furnishings and, in general, for small and large leather goods.
ABC Ricami also has more than 20 samples of patchwork combinations created by designers specifically for the fashion industry. Using the patchwork technique, the company can combine any type of leather, including nappa, suede, cowhide and exotic leathers, together with a vast range of materials like fabrics, cloth, PVC and different types of plastic. 
ABC Ricami staff benefit from continuous training in the management of avant-garde machinery by Tajima and ZSK, while continuing to cultivate the art of hand embroidery in order to keep this precious tradition alive. This unwavering commitment to excellence allows the company to stand out in a sector where every product must be outstanding in order to meet the expectations of luxury.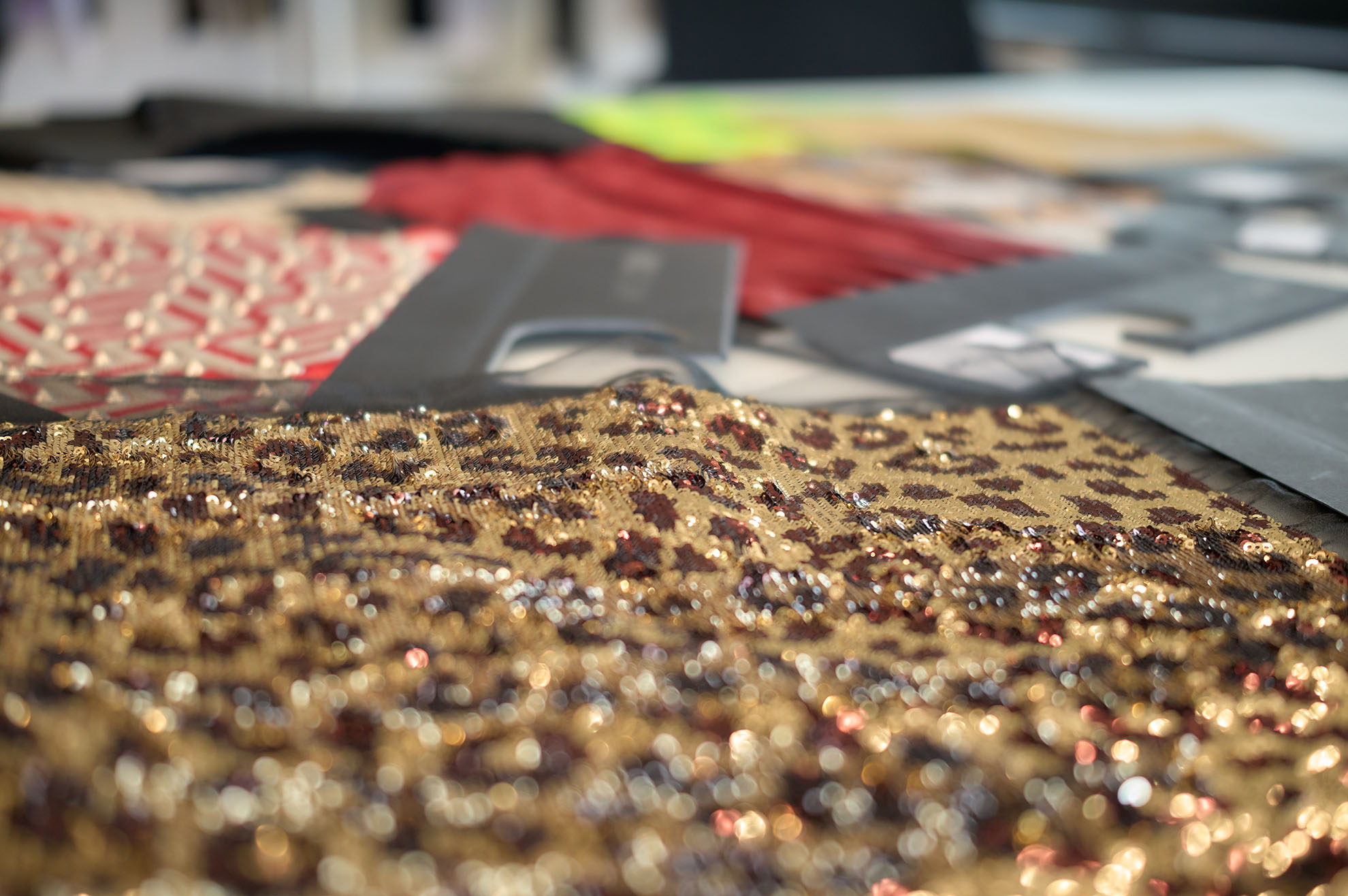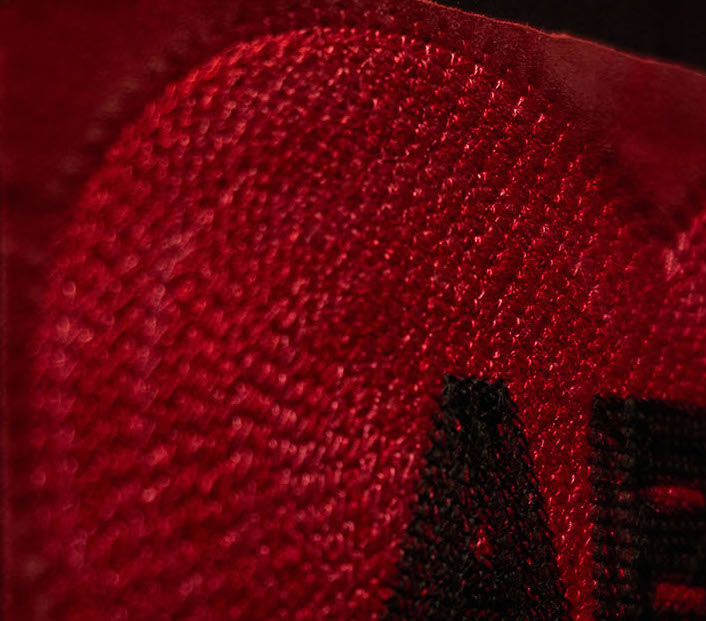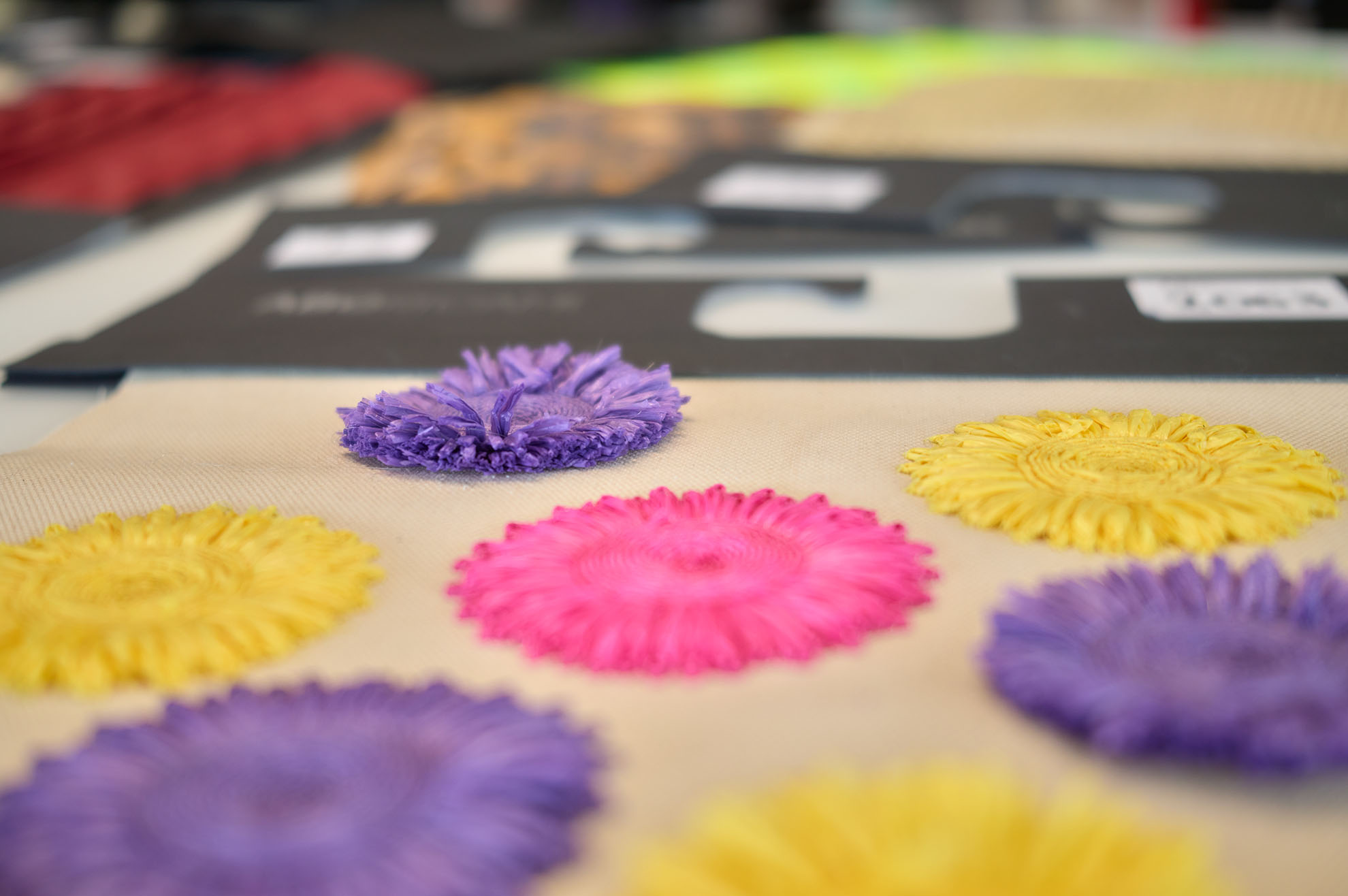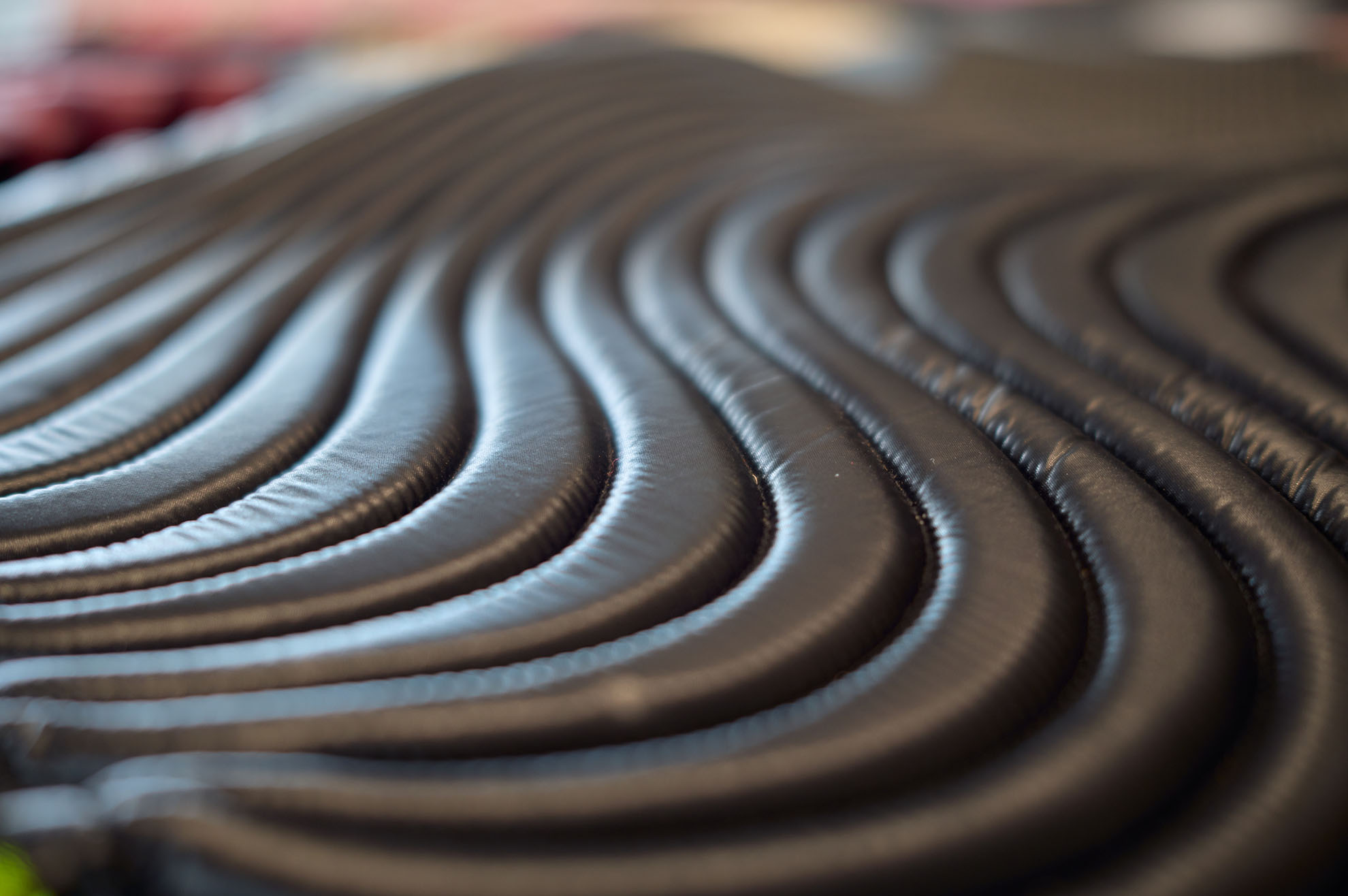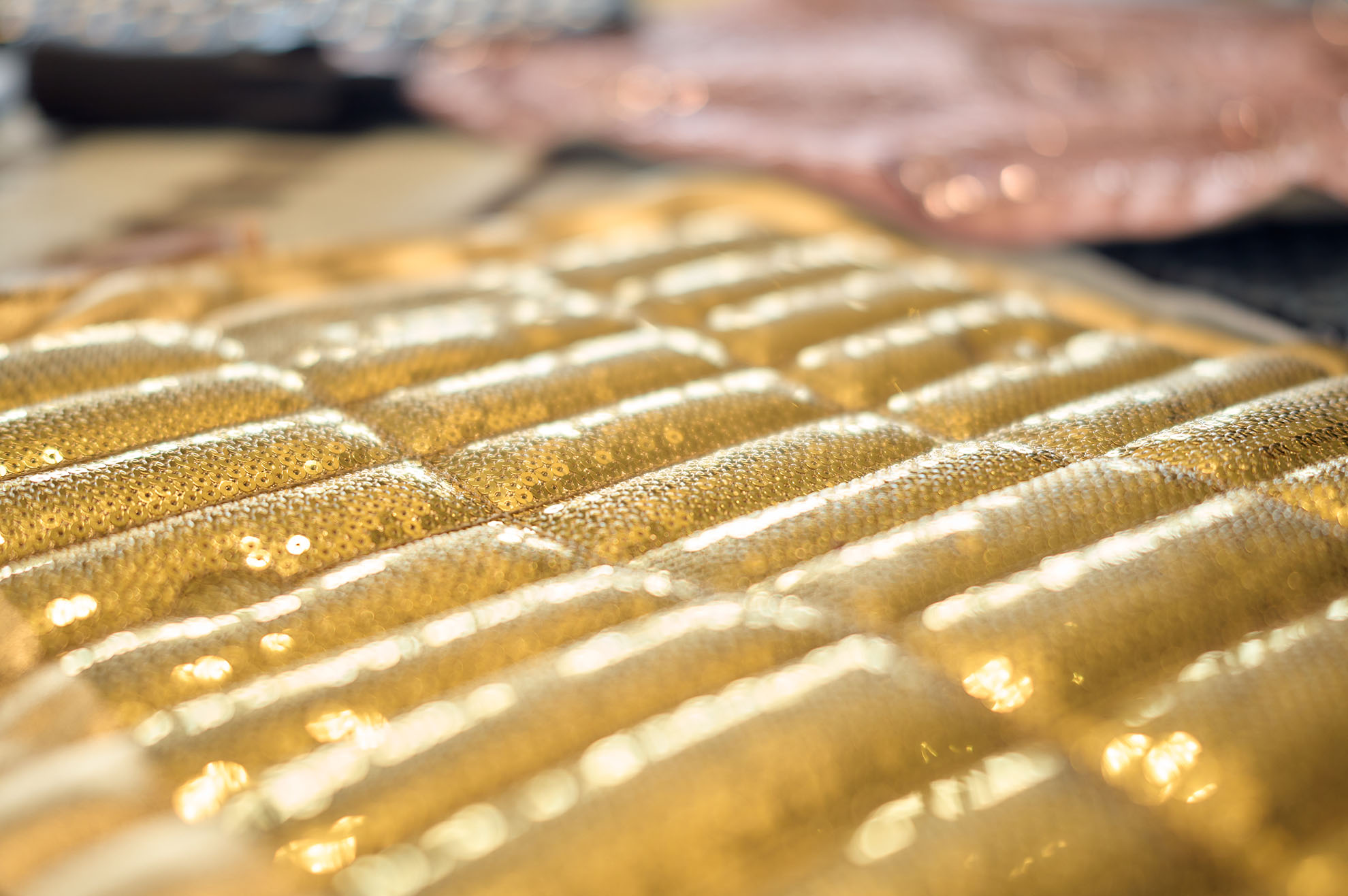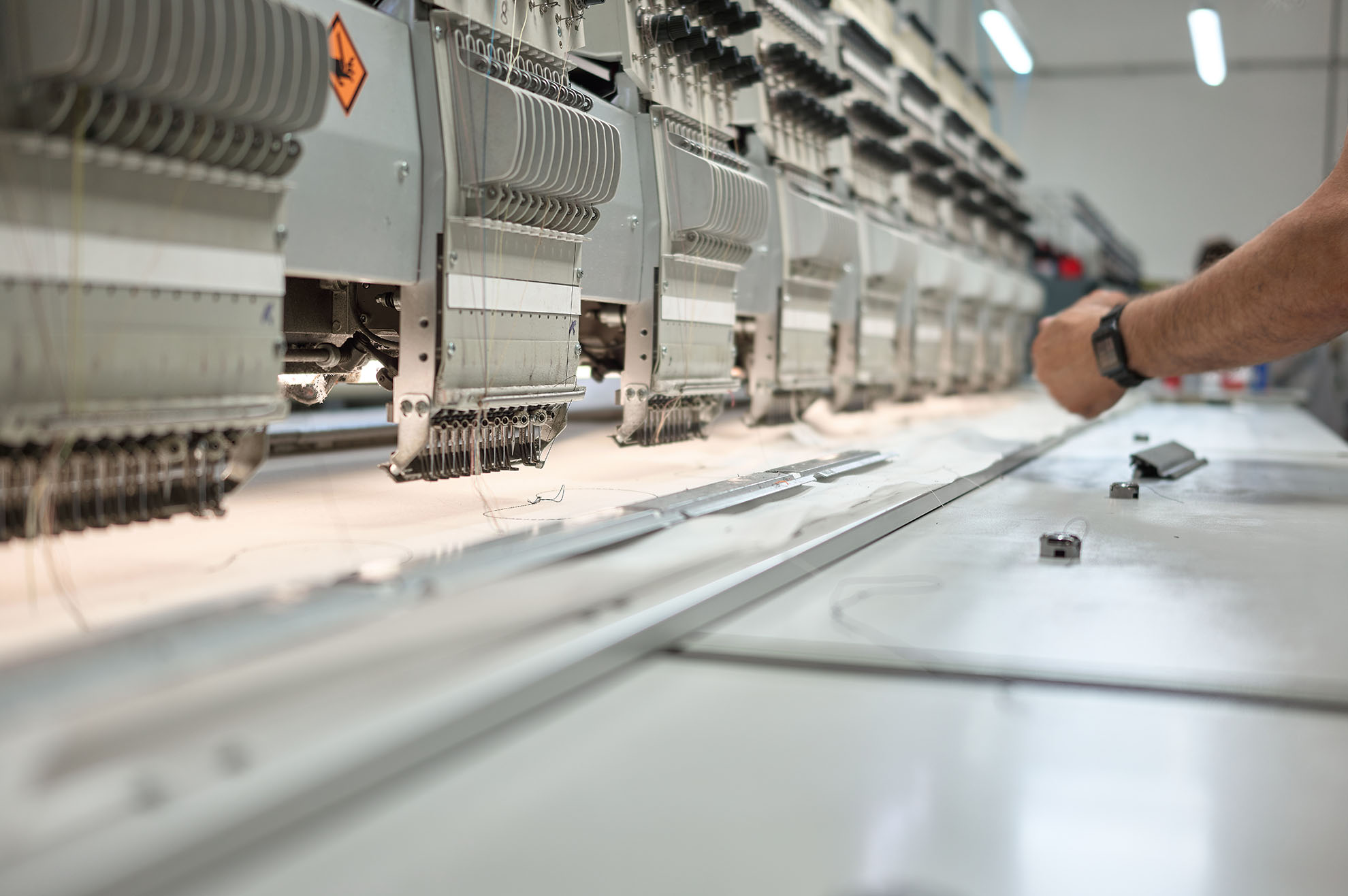 The company has an impressive range of advanced machinery and equipment for the production of high-quality embroidery. These include a laser bridge system for creating precise and very detailed intaglio work in fabrics, resulting in intricate, high-precision embroidery.
The company avails of special embroidery machines for appliquéing decorative elements like leather laces, metal chains, cording, ribbons, beads and sequins. Thanks to such machines, these elements can be efficiently appliquéd on embroidered fabrics, enhancing the details and textures of the finished products. Up to 8 different colors can be used in combination for decorative elements.
AS FOR EMBROIDERY, THE COMPANY HAS A FLEET OF 40 MULTI-HEAD EMBROIDERY MACHINES THAT CAN CARRY OUT DIFFERENT EMBROIDERED DESIGNS SIMULTANEOUSLY, INCREASING OVERALL PRODUCTIVITY.
Specialized technologies like coiling machines are used for finishing and for blackwork and chain stitch embroidery. Using specialist machines, with embroidery areas up to an impressive 120 cm x 120 cm size.
IF YOU ARE LOOKING FOR COLLABORATION OPPORTUNITIES, GENERAL INQUIRIES OR SIMPLY WANT TO START A BUSINESS CONVERSATION